Plan, organize and develop your sales
Become more productive and speed up your sales with Mobility Cloud's sales management software.
Sales
The Mobility Cloud ERP sales feature is designed to address the challenges of tracking orders, sales accounts receivable and returns with the management of all customer assets. Mobility Cloud's sales feature eases the management of the various transactions related to sales at a point of sale. All sales operations are tracked, and reports are available in real-time, it also facilitates follow-up of the evolution of the activity.
Make your quotes quickly
Manage your orders with peace of mind
Your invoices at hand
Integrate customer returns naturally
Have global visibility on your sales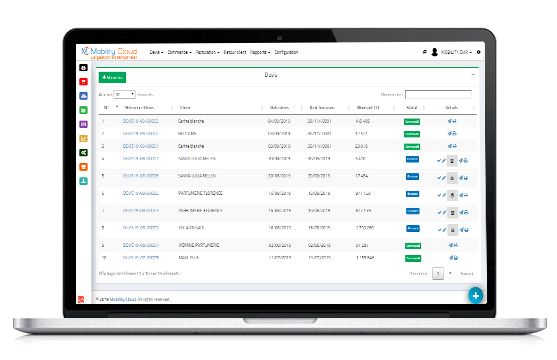 Quote - Invoice
Quotation and invoice are two functionalities that are closely linked to the management of accounting within a company. They are therefore automatically synchronized for better visibility and traceability of your activity.
In a company, automated management consists in using specialized software. The latter easily and quickly processes all operations relating not only to estimates and invoices but also synchronizes all information to produce financial statements. And this is done in real-time, regardless of the location (where the business owner or the accountant is), and on any mobile device.
The required information for an invoice is: